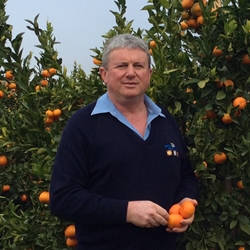 James and Simone Altmann - Belair Orchards
Belair Orchards has been operating under an environmental program since 1992. Owners James & Simone Altmann have set aside 20 hectares of undeveloped native vegetation that will stay as much as possible in its natural condition.
Most of this is comprised of Murray River Flood plain, and adjacent native Mallee scrub. We are very aware of the biodiversity benefits that native vegetation provides our horticultural business.
We made a conscious decision right from the start to not use broad-spectrum or residually toxic insecticides or miticides in our fruit production. This helps preserve naturally present beneficial species, and ensures our fruit is always safe to consume.
We encourage grasses and broadleaf herbage to grow in between the orchard rows and on the headlands to help build organic matter in our soils and protect against wind, water & traffic erosion. We do utilise a copper spray once a year for disease, suppression and use some weed sprays around sprinklers to maximise our water distribution.
Fertilisers both natural and artificial are used, and applied when required in small amounts. This is done to reduce the possibility of excess nutrients in the ground water and to be ever vigilant in our protection of the nearby river.
Therefore we are not organic producers but have a very stable sustainable production model that is environmentally focussed. We believe we can continue to produce fruit & vegetables this way for an indefinite period into the future & maintain or improve the environment at the same time.